RASopathies Network USA News Post
August 2021
We are excited to announce … the Chairs for our next symposium are: Drs. Gregor Andelfinger, Anton Bennett, and Rene Pierpont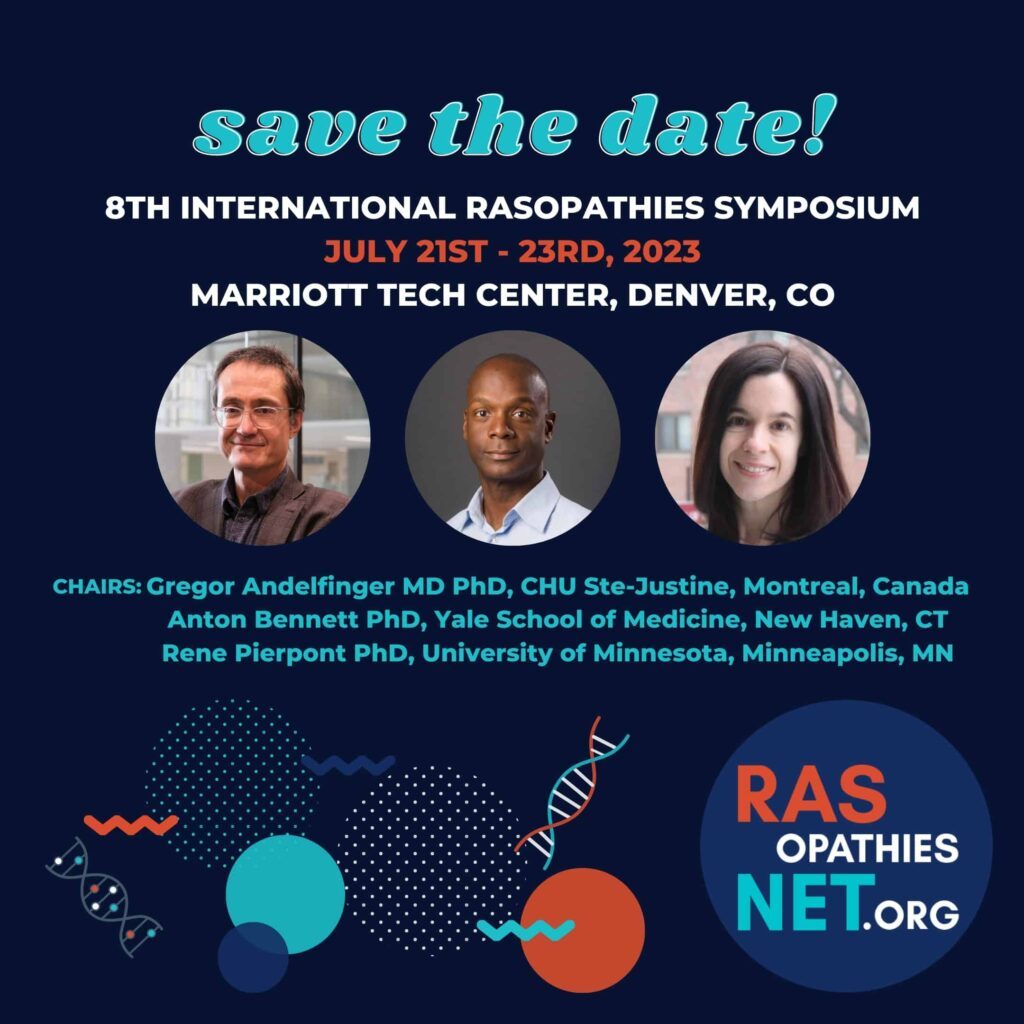 November 20, 2020
CHOP Researchers Reverse Severe Lymphatic Disorder in Patient with Noonan Syndrome by Targeting Genetic Pathway
Read the press release here 
PHILADELPHIA, Nov. 20, 2020 /PRNewswire/ — Researchers at Children's Hospital of Philadelphia (CHOP) have resolved a severe lymphatic disorder in a girl with Noonan Syndrome that had led to upper gastrointestinal bleeding, fluid collection around the lungs, and numerous surgeries that had been unable to resolve her symptoms. By identifying a genetic mutation along a pathway related to lymphatic vessel development and function, the research team was able to target the pathway using an existing drug they had used in a previous case to remodel a patient's lymphatic system.
The case study, which was published today in Pediatrics, describes a resolution of the patient's symptoms within three months while on the medication.
Reversing Severe Lymphatic Disorder Caused by Noonan Syndrome: Maria's Story
More here
September 14, 2020
RASopathies Network Board Member, Beth Stronach, co-presented a workshop on RASopathies with our Scientific Advisory Board member, Dr. Bruce Gelb, at the 2nd RAS-Targeted Drug Development Summit, organized by Hanson Wade events.

Title: Exploring How RASopathy Syndromic Disorders Will Help Target the RAS Pathway
This workshop will introduce the 'RASopathies', a group of neurodevelopmental genetic syndromes caused by germline mutations in genes encoding members of the RASMAPK signaling pathway. Amongst the 20 different genes implicated in RASopathy syndromes most mutations result in activation of RAS signaling. Discussions will consider how knowledge of RAS mutant cancers and cancer therapeutics can inform treatment of RASopathies, as well as how cancer biology may benefit from understanding the role of RAS signaling in human development revealed by study of the RASopathies.
Topics to be covered:
What are the RASopathy syndromes, how do they manifest, and how prevalent are they?
How do RASopathy mutations compare with RAS cancer mutations?
What can RASopathy variants teach us about RAS signalling biology, mechanisms of action and new target opportunities?
What preclinical models of RASopathies exist; and what have early/small clinical trials told us?
What clinical endpoints are amenable to measuring in individuals with RASopathies?
Our slides are available here.
We had more than 20 attendees for our virtual workshop including pharmaceutical medical directors, scientists and research fellows, and a pediatric oncologist.
The meeting was a wonderful learning experience, especially to hear about advances in RAS pathway targeted drugs and clinical trials focused on RAS-driven cancers. The resources being developed and studied in the oncology space will undoubtedly help to de-risk therapies for future application to RASopathies.
~~~
Two CONFERENCE REPORTS published!

~~~

Thank you Everyone for a full 2017!  Here's a link to 0ur 2017 Year In Review
~~~
Whiteboard Animation by Russ Law: russ@russlaw.co.uk
~~~
First RASopathies Meeting in Asia
INTERNATIONAL SYMPOSIUM ON NEW DEVELOPMENTS IN NEUROFIBROMATOSES AND RASOPATHIES:
Their Management, Diagnosis, Current and Future Therapeutic Targets
27th – 29th November 2017, Crowne Plaza, Kochi, Kerala, South India
For further information on the programme contact: Professor Meena Upadhyaya, upadhyaya@cardiff.ac.uk
Registration and Abstract details can be found at http://www.nfr2017.doctorsacademy.org/
1st Asian RASopathies Symposium agenda and programme
Important Rare Disease Caregiving Study – stay tuned for final report
To study the impact of rare disease on unpaid friends and family members who provide care (known as "family caregivers"), the National Alliance for Caregiving and Global Genes are launching a "first-of-its-kind" national snapshot of rare disease caregivers. This fall, the two groups plan to release a national survey aimed at collecting feedback from over 1,000 family caregivers of children and adults with rare diseases.
The survey will be open from Wednesday, September 13 through Tuesday, October 31 with a final report anticipated in early 2018.
Click here to take the Rare Disease Caregiving Survey
~~~ 
…is accepting letters of intent for their very first grant. The Costello Syndrome Junior Investigator Grant will support the early career of a junior investigator to conduct a preliminary study that will advance knowledge about Costello syndrome and aid in securing larger grants.
A total of up to $10,000/year is available for up to a 2-year period. This is an opportunity to partner with a family organization and to receive mentoring/feedback by their Professional Advisory Board.  Their expectation is that this grant will lead to presentations at the concurrent International Costello Syndrome Family Conference and the RASopathies Symposium in early August 2019.
Information is available at the following link: http://costellosyndromeusa.com/wpmain/wp-content/uploads/2017/08/CSFN-RFP-8-3-17.pdf
Cancer Research UK and the Cancer Research Technology Pioneer Fund (CPF) have committed £2.5m in collaboration with the National Cancer Institute (NCI), US, to tackle one of the most difficult challenges in cancer that has thwarted researchers for more than 30 years.
Scientists will develop and test promising new molecules for targeting RAS, one of the most common driving mutations in aggressive, hard to treat cancers including pancreatic and lung cancer.
Development of tests for analysing novel RAS inhibitors will take place at the Drug Discovery Unit at Cancer Research UK Beatson Institute, Scotland, alongside scientists from NCI in Maryland, USA.
Dear RASopathies Families:  Children's Hospital of Philadelphia (CHOP) is conducting a new sleep research study to help develop a new pediatric sleep health survey.  Your responses will help us to better understand how sleep health relates to RASopathies.
If you have a child of any age with a RASopathy and choose to participate, you will be asked to complete an online survey, which will take you about 10-15 minutes.  If your child is between the ages of 8 and 17, he or she may be able to participate in the study by answering the survey, as well.  Anyone who understands English is eligible to participate (it is not limited to the United States).  Participation in this study is voluntary.
If you would like to take part in this study, please follow the survey link below:
https://redcap.chop.edu/surveys/?s=9CYPM4MME
On the website, you will be asked to provide consent for your own participation and your child's participation (if eligible).
If you have any questions about this study, please e-mail or call Anna de la Motte, the study coordinator, at delamottea@email.chop.edu or (215) 590-3196.
~~~ 

Posted by Jennifer Huron
Washington, D.C., March 8, 2017—The National Organization for Rare Disorders (NORD), the leading independent nonprofit organization representing the 30 million Americans with rare diseases, issued the following statement in advance of today's hearings on the American Health Care Act
https://rarediseases.org/nord-issues-statement-house-committees-review-american-health-care-act/
~~~

New Noonan Syndrome Research Opportunity!
Participate in the first ever study of brain and cognitive development in boys and girls with Noonan syndrome at Stanford University's Center for Interdisciplinary Brain Sciences Research.
Study includes MRI and a comprehensive neuropsychological evaluation. Travel costs for the study are covered by Stanford.
Seeking: Children ages 4-11 with Noonan syndrome associated with PTPN11 mutation
Contact: Alexandra Ishak ishak@stanford.edu (650) 440-1902
For general information about participant rights, please contact the Stanford IRB at (866) 680-2906.
Click HERE for link to flyer.
~~~
Rare Disease Week
Follow us on Twitter!
RASopathies Network (@RASopathiesnet) _ Twitter
Lisa Schill presented at Rare Disease Week Legislative Conference, shedding light on RASopathies!
Max is featured on Joan Lunden's Blog: http://www.joanlunden.com/category/33-joan-s-blog/item/1210-max-schill-blog
~~~ 
CFC International's New Executive Director
Hello RASopathy Cousins!
I would like to introduce all of you to Gina Peattie. She came on board with us on Jan.1 and we are teaming together until my official retirement on July 1, 2017.
Brenda Conger
Executive Director
CFC International
183 Brown Road
Vestal, NY 13850
607-772-9666
www.cfcsyndrome.org
Gina Peattie holds a Master's Degree in Public Administration with an emphasis on Non-profit Sector Management from California State University-Northridge and a BA in Sociology from Siena College. She brings proven leadership and management skills, as well as experience working in the rare disease field to her new position of Executive Director. Gina's most recent experience includes working at the Children's Cardiomyopathy Foundation as the Manager of Patient Outreach & Support, overseeing all services for children diagnosed with cardiomyopathy and their families; as well as outreach and relationship building among the medical community. She has spent her career in the non-profit field and has extensive experience working with youth and families, providing counseling and support, developing programs and educational resources, training, managing volunteer programs, creating awareness initiatives and building collaborative partnerships at organizations such as the Girl Scouts of Northeastern NY, Santa Clarita Valley Youth Project, Valley Trauma Center and YWCA Bergen County Rape Crisis Center.
Gina lives in the Albany, New York area and spends her free time with her husband and two children. She is excited to get started and work with Brenda in preparation of the 2017 conference and looks forward to meeting many CFC International members in June! Gina is honored to join the CFC International team and help to advance its mission. She can be reached at gina@cfcsyndrome.org or 573-207-5105.
~~~
RASopathiesNet's 2016 Year in Review
can be read here.
Thank you all for your past, current and future myriad contributions toward our mission!
~~~
Congratulations to Philip Stork, MD

Oregon Health & Sciences University
Winner of the 2016
Penn Medicine Orphan Disease Center
Million Dollar Bike Ride
Team RASopathies Network Riders
Grant
Topic: Are Raf dimers targets for therapeutic intervention in RASopathies?
More information about Philip Stork here
~~~
21st Century Cures Act Passes Congress!
More information at the Bipartisan Policy Center
Wednesday, December 7, 2016
~~~
  
Interview with Leslie Josling
by Marybeth Bailey
October 30, 2016
Where are you from?
I was born in Ontario, Canada but I was raised in Vienna, Austria. I returned to Canada in my late twenties.
What do you do?
I am the Executive Director of a counselling agency in southern Ontario, Canada. The agency offers individual, couple and family therapy as well as parenting education. I am a licensed psychotherapist but I have been working in leadership positions for most of my career. My undergraduate degree is in geophysics. While I was studying that I began volunteering at a local children's hospital and I quickly learned how much I enjoy working with people. I went back to school and pursued a graduate degree in Child Life. Many of our families with medical issues may know about Child Life, as it is a profession that works with the hospitalized child and family. I got this degree in the UK and BoIMG_2002ston, Massachusetts working with children in hospitals in four different countries. Years later I became a licensed psychotherapist (specializing in children's mental health). I also pursued a second graduate degree in Social Innovation a few years ago. I love my work. It is immensely gratifying to have work that makes a difference in the lives of others. I also have found it curious to experience so much overlap between my chosen profession and my journey with NS. I would have never dreamt that when I studied disabling conditions in children and families that one day I might too have to face it. Ten years after being the keynote speaker for Epilepsy Ontario my oldest daughter would be diagnosed with uncontrolled seizures.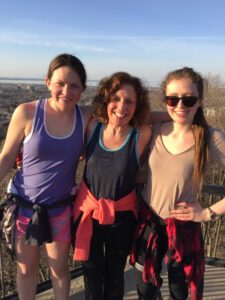 What are your hobbies?
I enjoy playing the guitar and singiing. I am a foodie and love to be with friends cooking and sharing meals together. I also hike and work out most days. I try to do yoga most days of the week as I find it helps me stay well.
When did you first know that you had a RASopathy?
I first learned that I had Noonan Syndrome (SOS1) at age 51 years when my oldest daughter was diagnosed (she was age 18). My oldest daughter had an extremely difficult journey with intractable (uncontrolled daily) seizures and intellectual disability. She did not present with some of the typical NS features (e.g. no heart issues and she is 5"7") so it wasn't obvious. It was only when genetics cast a very broad net that it came back with NS. Similarly, they didn't think I had NS, because I am so healthy. They were extremely surprised when I tested positive.
How do you get help when you need it, and who are your supports?
First and foremost I turn to my friends and family for support. I am fortunate to have many very close friends (many of them are therapists which can be a bonus when you hit a rough patch!). I also can't say enough about our on-line community on the RASopathies Facebook page and the Noonan Syndrome Foundation. They have provided encouragement, information and have allowed me to explore the ins and outs of the NS with others.
What bothers you most about living with Noonan's Syndrome?
I personally have been relatively untouched by NS. My mom lost my twin during her pregnancy but I had a few health challenges. I had some feeding issues in my first four months of life, which were resolved with the introduction of soy formula. I had a VSD that resolved in childhood. Otherwise, I have enjoyed terrific health. I have not spent a single night in the hospital in 54 years. I had no learning issues and I enjoy a good level of fitness.
Two of my daughters have been more affected by NS and watching my children suffer has been the hardest part by far in living with NS. My oldest, Meghan was profoundly disabled by seizure disorder with 12-18 seizures/day which devastated her. We were fortunate that she received epilepsy surgery at age 10. The surgery, that removed 6 centimeters of brain, completely controlled the seizures and gave us a new lease on life. My youngest (17) was well and unaffected by NS until she also developed seizure disorder last year. Receiving that diagnosis in a second child just about unhinged me. It is difficult to come to terms with the effects of trauma both personally and in supporting our children.
Is there anything that you like about living with Noonan's Syndrome?
It would be quite a stretch to say there is something I like about living with NS. Having said that, I have enjoyed meeting some wonderful people on t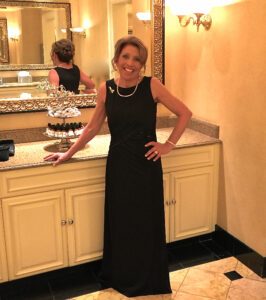 he journey and joining in sharing the distresses and delights of living with NS.
On a lighter note: I love my curly hair!
What would you tell younger children with Noonan's Syndrome or parents
or doctors?
I have often shared my story with new parents and children as a way of offering hope. A new diagnosis often leaves parents feeling overwhelmed and terrified. There are so many things that can go wrong. Although there is much written about the variability of NS, we don't often hear of people with NS living with the health, relationships and career that I have been privileged with. I like to remind people that really good things are possible. NS doesn't always mean a devastating outcome.
What do you want in life and what are your dreams?
I have been so fortunate to enjoy a good, full, healthy life! I have accomplished all I could hope for with my wonderful children, my career and my amazing friendships.
~~~
Interview with Carson

(with Noonan syndrome – PTPN11)
By Marybeth Bailey
with a little help from Mom Brianna!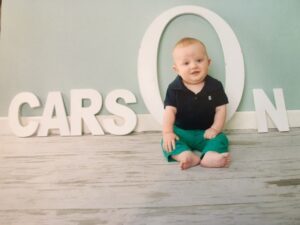 Where are you from?
Maynard, MA
What do you do/what grade are you in?
I am currently in daycare.
What are your hobbies?
Love to "talk" and explore everything! I am very curious. I love to sing songs, be read to and am working on trying to crawl but with not much luck, yet!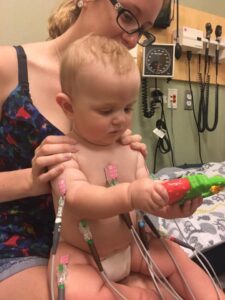 When did you first know that you had a RASopathy?
We found out that I had Noonan Syndrome when I was 8 months old.
How do you get help when you need it, and who are your supports?
My parents are my biggest support system. I currently get help from early intervention for occupational therapy, physical therapy, speech pathology and a nutritionist. I also get help from my teachers at school and from my aunt and uncle who love me as if they were my second parents.
What bothers you most about living with Noonan's Syndrome?
Nothing yet. Mom and Dad's biggest fear is that they don't want me to think I am different than any other kid or that I am somehow at a disadvantage for having this syndrome. Mom is also worried about how being a small male may impact my emotional wellbeing when I enter the teenage years. My mom and dad are also hoping that my undescended testes don't impact my fertility. Overall my parent's biggest wish for me is that I know I can do anything I set my mind to and that this Syndrome does not define me.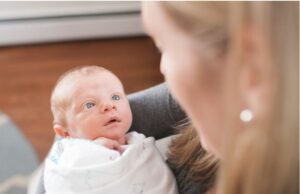 Is there anything that you like about living with Noonan's Syndrome?
I have met so
me really amazing people! Mom and Dad have learned who our "village" is as a result of having Noonan's Syndrome. I have met some other amazing families dealing with similar things. They have taught all of us so many valuable lesson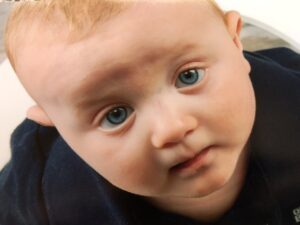 s such as taking things day by day and appreciating the little things in life – and most importantly—to SLOW DOWN, enjoy the here and now, and to be more present.
What would you tell younger children with Noonan's Syndrome or parents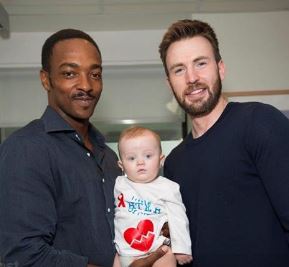 or doctors?
Parents—You will get through this. The universe only chooses the strongest parents for children with medical complications. You are stronger than you think and your baby is stronger than you think. Here is a link to Mom's blog that she started (although she is a bit behind and needs to do another update on my heart cath J) https://lifewithcartman.wordpress.com/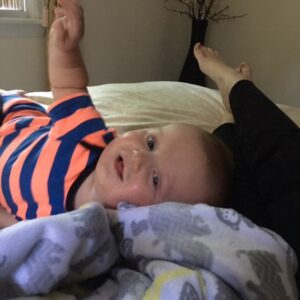 What do you want in life and what are your dreams?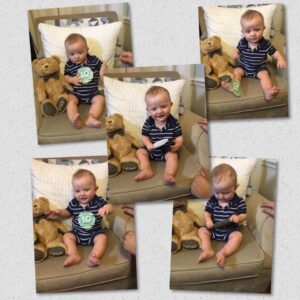 Right now at 10-months-old my dream for life is to get everything with my health under control and live life like a "normal" 10-month-old baby. I want my parents to continue to find the strength and mental clarity to continue to come to terms and accept our new normal. I want to continue to thrive and to show others that NS does not define us.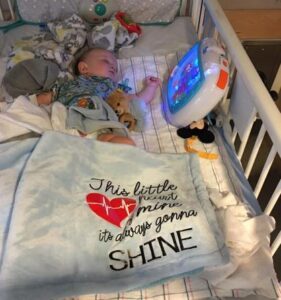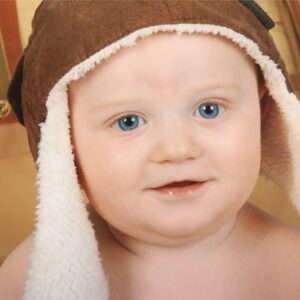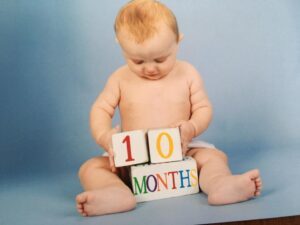 ~~~

Interview with Dr. Amy Roberts
What is your education history?
I pursued an undergraduate degree in biology at Swarthmore College, Swarthmore, PA.  While there I also completed my pre-med requirements and then attended Dartmouth Medical School, Hanover, NH.  After medical school I completed a residency in pediatrics at the University of Massachusetts Medical Center followed by a second three-year residency in medical genetics at Boston Children's Hospital.How did you become a researcher?
I had done a little bit of social science research in college and some basic bench research during summer breaks but it wasn't until my residencies that I had a chance to do clinical research.  When I was a resident in genetics I had a year of protected time to complete a research project and it was then I began a genotype phenotype correlation study and gene discovery work in Noonan syndrome that continues to this day.Why RASopathies?
I have an interest in cardiovascular genetics.  My research mentor during my residency in genetics, Raju Kucherlapati, had recently come to Harvard.  His lab sequenced chromosome 12 for the Human Genome Project and that research laid the groundwork for the discovery that mutations in the PTPN11 gene cause Noonan syndrome.  Dr. Kucherlapati is a PhD and he was very interested in understanding how particular gene mutations in PTPN11 predict medical or developmental outcomes for children with Noonan syndrome and wanted to work with an MD so we partnered to start that research study.  That was in 2002 and we now have enrolled almost 300 individuals with Noonan syndrome. I have also done some research in CFC though my main focus has been NS.What, as a researcher/doctor, interests you about rare disease?
I feel for families who are given a diagnosis that no one- not their family or friends or often even their doctors- knows anything about.  I wanted to be able to learn more and then share that knowledge to help families know as much as possible about their child's diagnosis.How has researching RASopathies impacted and/or changed your approach to research or clinical treatment?
Research in rare disease is challenging because there are not as many people to study as there are for common disease like adult onset diabetes or high blood pressure.  One equalizer has been social media and the Internet.  Many families find me and email to be evaluated or to join my study.  And I would not have been able to complete my research without the generosity and welcoming of organizations like The Noonan Syndrome Support Group, The Noonan Syndrome Foundation, and the Rasopathies Network who have generously allowed me to post information about my studies and to recruit families I never would have had the chance to meet by only seeing patients local to the Boston area.Have you personally connected with families?  How and why is the personal connection significant for you?
This has been one of the most rewarding parts of my career.  There are now children and adults with Rasopathies that I have known for more than 10 years.  I have greatly enjoyed spending time with families at the family support group meetings and research conferences.  It gives more depth to my understanding of what it is like to live with a Rasopathy.Whom do you admire professionally? Personally?
Professionally, I admire my mentor, Raju Kucherlapati.  When we began looking for new genes that cause NS other than PTPN11, we did a lot of work without much luck and he always has the most positive attitude.  He taught me to keep trying, to stay focused, to be flexible and that the answers will come.  I have also learned so much from my colleagues in this field: Bruce Gelb, Ben Neel, Marco Tartaglia, and Maria Kontaridis just to mention a few.  Personally, I admire my parents who raised three very different, independent and successful daughters! They encouraged us to pursue what interested us most, prized education above all other achievement, and they love us unconditionally.

Dr. Gelb – How did I wind up doing this anyhow?
In one of my first postings, I wrote about how I came to be a researcher studying Noonan syndrome and related disorders. But that picked up in the middle of my story as a physician-scientist. So, how did I come to do biomedical research for my life's work?
When I was young, I very much intended to become a lawyer. I was enamored with criminal lawyers, F. Lee Bailey in particular. Perhaps the fact that he flew in for visiting day when I was at sleep-away camp to visit his son in a helicopter, landing on our ball field, impressed me. In any case, that interested changed when I was a teenager. I was fortunate enough to spend a summer in New Brunswick, NJ, participating in several social action activities (e.g., feeding impoverished senior citizens). One of the things I picked was to be a candy striper at St. Peter's Hospital (thank goodness, there are no extant pictures of me in the garish pink and white striped coat!). By the end of the summer, I had decided to become a doctor. I stuck with that through college, taking the usual required coursework and doing well enough to qualify for a position in medical school at the University of Rochester.
While some may know early exactly what type of doctor they want to become, I wasn't one of those. Sitting through the seemingly endless lectures during 1st and 2nd year, it dawned on me that I might like taking care of children. I spent a wonderful summer doing pediatric research before my 3rd year. By the end of pediatrics rotation as a 3rd year student, I was sure that this was my calling (I had known that I was all thumbs so the various surgical options were not appealing, but some of the other thought-based specialties like Internal Medicine and Psychiatry needed to be considered).
I headed off for my pediatric residency at Columbia still unsure of the exact kind of pediatrics I'd do. My very first rotation was with infants and children with congenital heart disease. It was so complicated but wonderfully rational (at least, it made sense to me). After finishing residency, I headed south to Houston, Texas for my clinical training in pediatric cardiology.
And how about the scientist part of things? Well, I was a really late bloomer. Although I did a few geeky scientific things growing up (chemistry set, frog dissection with my dad), no one would have picked me out as a future researcher. I did a little in college and medical school but nothing substantial nor intriguing to me. When I was in Houston, we got a new head of pediatric cardiology during my 1st year. He suggested that all of the fellows head to molecular labs for training. Most of the others blew him off, but I listened (who knows why). I was then so very fortunate to wind up in a molecular genetics laboratory with a fabulous mentor just as the Human Genome Project was taking off. Like my experience with pediatric cardiology, this stuff actually made sense to me.
From there until now, it has been, as the old saying goes, 99% perspiration and 1% inspiration. Plus, a lot of good luck and good will from others who extended a helping hand along the way. And that certainly includes my many great colleagues in the RASopathy community!

FIRST Houston-area Noonan syndrome Family Conference


Saturday, June 4, 2016


Texas Children's Hospital – Pavilion for Women
Click HERE for schedule and registration form.  Please complete registration form and send it to Pilar Magoulas if you are able to attend.
Please contact Pilar Magoulas if there are any questions.
~~~
RASopathies Million Dollar Bike Rides and Grants information here.
~~~

Max Schill advocates for 21st Century Cures Act
More here at NJ Senator Menendez's site: http://www.menendez.senate.gov/news-and-events/press/menendez-meets-with-njs-max-schill-discusses-health-care-innovations
~~~

Rare Disease Day 2016 at the NIH
Lisa Schill (left) and Beth Stronach (right) presented RASopathiesNetwork's poster to raise awareness of the link between cancer and birth defects in individuals with mutations in the RAS cellular signaling pathway.
~~~

Report on Research funded by the first University of Pennsylvania's Orphan Disease Center Grant
Work on this project was conducted by: (left to right) Moon-Hee Yang, PhD, Postdoctoral Fellow; Fabrice Jaffre, PhD, Postdoctoral Fellow, Maria I. Kontaridis, PhD, Principal Investigator.
Delineating the cause of gastrointestinal abnormalities in RASopathy disorders using human inducible pluripotent stem cells (iPSCs)
RASopathies are a group of disorders caused by distinct mutations in genes that reside along the Ras-MAPK signaling cascade. As a result, individuals with RASopathies have unique, but similar clinical features, including gastrointestinal difficulties. This project has focused on understanding the mechanistic causes of the gastrointestinal defects in RASopathies. Using a series of reprogramming and stem cell differentiation approaches, we are working on identifying the molecular, transcriptional and epigenetic changes induced in human gastrointestinal progenitor cells as a result of these mutations.
Seed money from the UPenn RASopathies Pilot grant has been instrumental to this work, allowing us the opportunity to initiate the study and ask whether mutations in PTPN11, a RASopathy gene encoding the protein tyrosine phosphatase SHP2 and responsible for >50% of Noonan Syndrome (NS) and nearly all Noonan Syndrome with Multiple Lentigines (NSML, formally called LEOPARD Syndrome), can cause abnormalities in gut development and function. In this regard, we show here how we have successfully differentiated NSML patient-derived inducible pluripotent stem cells (iPSCs) into intestinal 3D organoids (Fig 1). The next stage of this work will compare the epigenetic and transcriptional alterations between NS and NSML-derived PTPN11 organoids using RNA-Seq and Methyl-Seq technologies. Together, these data will identify novel mechanisms underlying intestinal disease in RASopathies and will help define therapies that can target and treat these effects in patients.
Figure 1. Differentiation of SHP2Q510E human IPSC into intestinal 3D organoids. A. Intestinal organoids form highly convoluted epithelial structures surrounded by mesenchyme. After 21 days, the epithelium starts to form crypt-like (red arrow) and villus-like domains (black arrow) that protrude into the lumen of the 3D organoid B. Schematic representation of a 3D organoid, consisting of a central lumen lined by villus-like epithelium and several surrounding crypt-like domains. (Adapted from Sato, et al., Nature459 (7244), 262-5.2009).
~o~o~o~o~
Shvartsman Lab published useful visuals on RASopathies phenotype/genotype relationships
This publication has a lot of valuable information about RASopathy animal models as well. Here's a link to the publication http://www.ncbi.nlm.nih.gov/pubmed/26203125
More about Shvartsman Lab here: http://shvartsmanlab.com/
Shvartsman Lab and other labs can be found on the Researchers page.

Congratulations to the Baileys on their 1st Annual RAS Ride June 27, 2015!
Report from Marybeth Bailey:
We raised $2000 from our 1st annual RAS ride!!  We had over 60 riders and 20 walkers.  Below is a quote from John Funk, a pretty serious cyclist from Connecticut.
"When I found out there was dirt road  ride (and walk) in Peru, VT … I said, "Yes, perfect place".  When I dug a little deeper and learned that the ride was a charity/ awareness event for RASopathiesNET … I said, "Yes, perfect purpose".  Riding with a REAL purpose, such as RASopathiesNET, makes the day much more meaningful … and I FELT IT that day.  It was great to see the local community come together with a purpose, ride/ walk with a purpose, and celebrate our experiences with good food/ drinks at JJ Hapgood General Store/ Eatery afterwards.  Everything about it was perfect!  I can't wait to do it again next year!"
Dr. Katherine Rauen talks about autism in the RASopathies
Read Jessica Wright's interview with Dr. Rauen for SFARI here: http://sfari.org/news-and-opinion/q-a/2015/questions-for-katherine-rauen-cancer-pathways-autism-link
~~~
The history of how and why I started working on a very intriguing group of genetic disorders: RASopathies
by Maria Kontaridis, PhD
I have been very fortunate in my training and attribute much of my success in this field to these experiences.  Starting as a graduate student at Yale University under the mentorship of Dr. Anton Bennett, I first became aware of a class of proteins called tyrosine phosphatases.  It was there that I started working on the role of the SH2 domain-containing protein tyrosine phosphatase SHP2 in skeletal muscle differentiation.  Around this time as well, Dr. Bruce Gelb's group at Mount Sinai identified that mutations in SHP2 contributed to the onset of human disease, and specifically, that these mutations caused approximately 50% of Noonan and nearly all of LEOPARD syndrome cases.  In addition, some of these individuals also had increased propensity for development of specific types of cancer.  Intrigued by these findings, in 2003, I joined the laboratory of Dr. Benjamin Neel at Harvard Medical School and Beth Israel Deaconess Medical Center's division of hematology/oncology as a postdoctoral fellow, to continue work in this area.  While in Dr. Neel's lab, we discovered that the enzymatic function of SHP2 was opposed in Noonan vs. LEOPARD syndrome-causing mutations, suggesting there was a complex causal and mechanistic role for this phosphatase in disease.
In this regard, we began to recognize that these disorders developed similar, yet very distinct, cardiac abnormalities as well.  It was this intriguing component of these disorders that I found to be most exciting, and was the critical research interest and area with which I used to launch my independent career in 2007.  Our lab developed and characterized the first LEOPARD syndrome mouse model and identified that the primary mechanism of regulation for this disorder, in contrast to Noonan syndrome and other RASopathies, was mediated through abnormal AKT/mTOR, not ERK, signaling.  In addition, we found that use of an mTOR targeted inhibitor (rapamycin) could both normalize and reverse the hypertrophic cardiomyopathy (HCM) phenotype in these mice.  Consequently, we are excited that, in collaboration with Dr. Amy Roberts at Children's Hospital Boston and the NIH (NCATS-TRND grant support), along with collaborators Drs. Bruce Gelb, Ben Neel, and Maike Krenz, we are in process of evaluating the clinical efficacy and therapeutic potential for use of Rapalogs in treatment of HCM in LEOPARD syndrome, and perhaps other RASopathy and congenital heart disorders as well.  Our lab is continuing work in this area by trying to find ways to better understand the developmental causes and functional consequences of each of the mutations identified in RASopathies in heart and other organs and tissues.
Having attended some of the RASopathy meetings, I am humbled by the many families whose lives are touched by these disorders and whose lives we affect with our research.  As the parents and children share their stories with us, we work harder to help find ways to help make their lives easier.  I feel truly blessed to have found this research, to have opportunity to impact these children's lives, and for the support of this amazing international community.
~~~
Rare Disease Advocacy – More than Just Selling T-Shirts
by Lisa Schill
When my son was first diagnosed with a RASopathy, a rare genetic syndrome that affects cell growth and cell regulation by virtue of affecting the RAS/MAPK signaling pathway, I was so excited to finally have a diagnosis. That was quickly replaced by despair. In my hand was a handwritten note listing the next 10 specialists we needed to see. I was given no other direction on where to find accurate information about the disease, support groups, or other families who might be in similar situations. There were no t-shirts or bumper stickers to purchase so I could proudly show my support.
As a parent faced with such a daunting diagnosis, I wanted to do something to make a difference, but I really didn't know where to start. So I started simple. I created a t-shirt to sell. My goal was to raise funds for research. Little did I know it takes over 2 BILLION dollars to create a treatment. Since then, I've upgraded my efforts and moved from t-shirts to bike rides. I'm working hard, in my own small way, to raise funds for RASopathies research.  But there is still so much more we can do to facilitate rare disease research.
… more here:http://www.raredr.com/contributor/isa-schill/2015/02/rare-disease-advocacy–more-than-just-selling-t-shirts
~~~
PENN's Orphan Disease Center Awards its RASopathies Research Grant to Dr. Maria Kontaridis
     Funds were raised by the RASopathies Network through the 2014 Penn Million Dollar Bike Ride, and matched by Penn's Orphan Disease Center.
     The RASopathies Network will be participating again next year.  If we raise at least $20,000, they will match up to $50,000. The bike ride will be
May 9th, 2015
.
     Happy New Year!!!
~~~
December 12, 2017

by April Brownlee
You know that spot at the very top of a roller coaster–that split second where your car is balanced perfectly at the point of the hill and your heart pounds because you know you're about to plunge downward?
Seven years ago today.
December 12, 2007. It was afternoon. I'd heard the words "Noonan syndrome" before. But on this day, they …carried so much more weight as it became the official explanation for all we had experienced… it had already become a part of our lives. And it will always be a part of Catie's DNA.
Many times before that day doctors told me there was no hurry to achieve a diagnosis for Catie. "What would it change?" they asked. "Nothing," they would tell me, answering their own question. Over and over, I was told it wasn't worth pursuing a diagnosis because it would be complicated and it wouldn't change Catie's treatment plan. We would just manage symptoms, they'd say, no matter what the cause.
But that diagnosis changed everything. Noonan syndrome isn't WHO Catie is. But it's a HUGE part of who she is. Noonan syndrome is part of how she looks, how she grows, how she develops, how she acts, how she moves, what she can and can't eat. No, it's not who she is. But it's a part of every part of her.
When Catie was three, I began having gentle conversations with her about her diagnosis. I stole our quiet moments in the car when it was just the two of us and carefully broached the subject. I was so grateful I had a name to give it. I can't imagine telling a child–or anyone, really-they're experiencing such chaos and nobody knows why.
Knowing what is responsible for all that Catie experiences also makes ME feel better. It may sound selfish to you. After all, I don't have to live with a syndrome. But I did have to fight for that diagnosis. I stayed up all hours of the night researching symptoms. I lumbered at the back of a room, restraining my ownself, while various people in scrubs strapped my screaming baby to a cold, hard board to conduct x-rays and various other imaging. I routinely counted her respirations at 2 a.m., decisively armed with a number that would gauge for me at what point we should head to the emergency room. And when that time came, so many nights, I carried her into the ER while her dad stayed home with our older child. I sat there, alone, whispering in her ear, "You can count on me." I gave myself a pep talk in her hospital room in the middle of the night as I battled through a fever, shivering uncontrollably, still somehow coaxing myself into enough coherence to assist in her round the clock breathing treatments. So, yes, I wanted a diagnosis. Probably more than anyone. I just needed to know.
And now I do.
Then I guess we began the descent to the bottom. Everyday since that day has felt so much less weighted than all the days before.
These days, from time to time, when something about herself seems curious to her, a very sassy 8-year-old Catie cocks her hip to one side, sticks out a leg, tosses her massively curly hair and asks me, "Is that 'cause I have syndrome?"
"Yes," I answer, choking back a snicker and some tears. "It's because you have syndrome. Noonan syndrome."
~~~
Lisa Schill is quoted in news article about Congressman Leonard Lance continuing as Republican Chair of Congressional Rare Disease Caucus – December 10, 2014
–Read more here: http://www.nj.com/hunterdon-county-democrat/index.ssf/2014/12/congressman_leonard_lance_will_1.html
~~~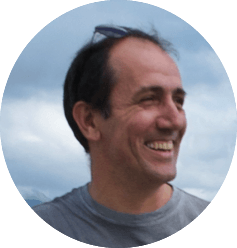 News stories about Alcino Silva's discovery: Statins Reported to Reverse Learning Disabilities – http://www.examiner.com/article/statins-reported-to-reverse-learning-disabilities
and http://www.sciencedaily.com/releases/2014/11/141110124235.htm
From the UCLA Office of Intellectual Property & Industry-Sponsored Research: http://techtransfer.universityofcalifornia.edu/NCD/20191.html
In search for a cure for NF1 and Noonan: unexpected turns and lucky breaks!
by Alcino J Silva, UCLA
When I was a graduate student in Ray White's laboratory, where the first Rasopathy gene (NF1) was cloned in 1990, I learned from David Viskochil, then a post-doc in Ray's lab, that NF1 subjects had an unusual high rate of cognitive deficits. I will never forget David's words: "When you have your memory lab, remember to study NF1". His words implied a confidence in my future that frankly surprised me, and I never forgot his advice. After my Ph.D., I went to Susumu Tonegawa's lab at MIT, where I helped to bring mouse genetic approaches to studies of learning and memory. At MIT I got to know Tyler Jacks, a post-doctoral fellow in Robert Weinberger's lab. Tyler derived mice with a mutation in the NF1 gene, and I immediately asked him for a collaboration. When I set up my own research group at Cold Spring Harbor Labs, one of our first projects was to test whether the NF1 mice that Tyler made at MIT had learning deficits related to the deficits that David Viskochil had described to me many years earlier.
Our studies of the learning deficits of NF1 mutant mice uncovered a mechanism and a treatment for this condition. Rui Costa and Yijun Cui in the laboratory found that the mutation of this gene in mice leads to abnormally high synaptic inhibition that results in deficits in plasticity mechanisms used for learning. I will never forget the excitement in the laboratory when Steve Kushner and Weidong Li discovered a treatment for the learning deficits in NF1 mice! Remarkably, they found that an FDA approved drug (lovastatin), that decreases Ras signaling, reverses the behavioral and physiological deficits of the NF1 mutant mice. A project that started as a quixotic far fetched dream, had actually resulted in what many assumed to be impossible: an adult treatment for a condition that we all knew affected brain development! Fortunately, other scientists shared our excitement for this discovery, and within a few years there were several clinical trials started to test the treatment we had discovered. The results so far are encouraging: a number of published experiments with lovastatin seem to confirm our findings in mice, and we are anxiously waiting for the results of a large lovastatin Army-funded clinical trial.
Following our work with NF1, it was natural for us to study another RASopathy. Like NF1, many Noonan syndrome subjects also experience learning and memory difficulties as well as other psychiatric and neurological symptoms. Therefore, Yong-Seok Lee and Dan Ehninger in the laboratory used Noonan mutant mice that Benjamin Neel's lab had derived, to discover the brain mechanism and a treatment for this Rasopathy. Since the behavioral deficits of Noonan and NF1 subjects are similar, and since both conditions are caused by high Ras signaling, we assumed that the mechanisms of these two conditions would be very similar. This was a reasonable assumption, but nature has a way of surprising us! We were astonished to find that unlike NF1, synaptic inhibition was completely normal in the Noonan mice! After much searching and many late nights, we found that the problem in Noonan is excitatory synaptic transmission! In the Noonan mice, the excitatory synaptic increases needed for learning are prevented by exuberant Ras signaling that saturates excitatory synaptic function!
The synaptic saturation hypothesis was reasonable, but it needed to be tested directly, since the cognitive impairments could have been caused by disruptions in brain development. This was more than a conjecture, since the Neel Lab had actually demonstrated developmental deficits in these mice. So, Yong-Seok Lee in the lab engineered viruses that could deliver a Noonan mutation to specific cells in the adult brain. His results were nothing short of amazing: he was able to recreate the physiological and behavioral deficits he had described for Neel's mice, and in his experiments developmental problems could not explain the behavioral deficits! More importantly, Yong-Seok's data suggested that since we could reconstruct the deficits he discovered by introducing the mutation in adult mice, we may also reverse the effects of the mutation in adults and one day help the many millions of patients with Noonan syndrome!
Emboldened by these findings, Yong-Seok next tried to reverse the learning deficits of Noonan mice with the same FDA drug that was successful in NF1 (both conditions are caused by high Ras signaling, and lovastatin reverses these increases). His results were extremely encouraging: a brief treatment with lovastatin was able to reverse the learning deficits in the Noonan mice even when the treatment was started in adults!
Of course, we cannot be sure that the treatment we developed in mice (to be published in Nature Neuroscience on November 10, 2014) will be successful in clinical trials. The road from mouse models to clinical treatments is long and fraught with many pitfalls. Even if our treatment works in a significant number of Noonan subjects, there are no guarantees that we will be able to demonstrate overall clinical improvement. The psychological tests commonly used to determine the effects of drugs on cognition are very blunt and may fail to detect the improvements in patients. There is also significant genetic variability amongst Noonan patients that may confound the results of the trial. It is a sad fact that all commonly used neurological and psychiatric treatments only work in a fraction of patients they were intended to help. Additionally, even if our treatment reverses the biochemical deficits caused by Noonan mutations, it may take sometime before patients and their families can see clear quality of life improvements. Even after the biochemical deficits are corrected, patients will have to catch up with all that they missed while growing up…
However, there is reason for hope! It was not long ago that many scientists thought that what we have done was impossible! In science, the impossible today is tomorrow's breakthrough. At every step of the way, the ingenuity and hard work of the exceptional young scientists I have had the privilege to work with, have found ways to make the improbable, even the impossible, not only probable but also real! I remember countless times when their resolve was strengthened by conversations with NF1 and Noonan families, and by the realization that the future of the children they met depended on the work they were doing in the lab. It is their enthusiasm and determination, their irrepressible idealism, dedication and hard work that convinces me that one day in the not too distant future, we WILL have treatments for all RASopathies!
~~~
Katherine Rauen named 2014 Rare Champion of Hope honoree at 2014 Global Genes Summit
(UC Davis Health System Newsletter, SACRAMENTO, Calif.) —
Katherine Rauen, professor in the Department of Pediatrics and a physician-scientist affiliated with UC Davis MIND Institute and UC Davis Children's Hospital, has been announced as the 2014 Rare Champion of Hope Honoree in Science. The honor, awarded by the Global Genes Project, recognizes her unwavering commitment to rare disease, her investment in new treatments and her care and respect for patients.
The award will be presented at the Global Genes Project's Tribute to Champions of Hope Gala awards ceremony on Saturday, Sept. 13 at the Hyatt Regency in Huntington Beach, Calif.
~~~
On Saturday, May 3, 2014,  Lisa Schill and the team she pulled together participated in the University of Pennsylvania's new Center of Orphan Drug Research and Therapy to raise over $30,000, which CODRT will match 1:1 to fund research on the RASopathies.
Words from Lisa on Sunday, the day after the race:
When Max was diagnosed, I felt so alone. A doctor introduced Kelly Hudak and I via email since our sons were diagnosed with the same rare disease. That was 3 years ago. Her son just went through open heart surgery. My son was about to have spinal surgery. We have stayed in touch with each other via Facebook, we have never met in person. We met each other for the first time yesterday. Our children were able to meet yesterday. Both of us don't have a lot of biking experience but decided to do the 77 miles together. It took us 7hrs and 23 minutes. I wouldn't have been able to get through it without her and all those affected with the syndromes who sometimes go through so much more. I wouldn't have been able to through it without my team, some who I knew and others who I did not but all were willing to lend a hand and help. The Million Dollar Bike Ride raised 1.4 Million Dollars for Rare disease. Our team raised over $30,000 that will be matched to create a RASopathies research grant. I will remember this day for the rest of my life. It is an experience that will always fill my heart with joy. Thank you to all who contributed. Thank you for taking the time to care. I am forever grateful.
xoxo – Lisa Schill Team Captain of the RASopathies Network Team
[Matt cheering along the route]
[Kelly Hudak and Lisa Schill at the finish line.]
—
Steph Nimmo's story about Daisy (with Costello syndrome) is featured on Global Genes, "How Our Daughter Benefits When Rare Disease Groups Collaborate" – Thank you Steph!
—
Lisa Schill represented RASopathiesNet at the New Jersey Rare Disease Day event at the New Jersey State House March 13, 2014.
—
Katherine Rauen receives Presidential Early Career Award for Scientists and Engineers
Go here for White House Announcement
—
UCSF RASopathies Research Program Newsletter ~ January 2014