RAS

opathies

Network
President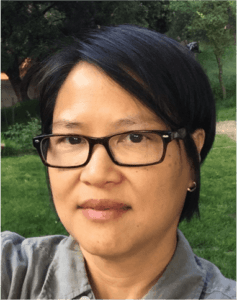 Lisa Schoyer is the mom of Quin Johnson, who had Costello syndrome (HRAS G12S) and died in 2002 at 6-1/2 years old, of embryonal rhabdomyosarcoma (eRMS) related to the syndrome.  She is founder and President of the RASopathies Network USA.
Lisa also is a trustee of the International Costello Syndrome Support Group (ICSSG), as well as Past President and Past Secretary for the American Costello Syndrome Family Network (CSFN).
Lisa partnered with Katherine A. Rauen, MD, PhD to produce the 1st International Costello Syndrome Symposium in Portland, OR, 2007; and the 2009 Scientific meeting on the genetic syndromes of the Ras/MAPK pathway: From bedside to bench and back, in Berkeley, CA.  In 2011, she partnered with Bruce Gelb, MD, to produce the 2nd International meeting on genetic syndromes of the Ras/MAPK Pathway: Finding our way back to the bedside.  In 2013, Lisa worked with Bruce Korf, MD, PhD, on the 3rd International meeting on genetic syndromes of the Ras/MAPK Pathway: Towards a therapeutic approach, in Orlando, Florida.  Starting with the 2015 4th International RASopathies Symposium, Lisa has taken on the role of Principal Investigator for the symposia.
Though trained as a professor of studio art, after Quin died, she was hired by the County of Los Angeles first as Chief of Family Support at the Los Angeles County Department of Public Health's program for children with special healthcare needs (2003-2009).  Since then, she has been working in the County's Department of Mental Health in the Prevention Bureau/Family and Community Partnerships Unit where she is DMH's Countywide Regional Center (for Developmental Disabilities) Liaisons Coordinator, where her passion is helping mental health clinicians provide appropriate mental health services for those with I/DD.

Secretary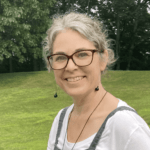 Beth Stronach has been an academic research scientist for over a dozen years.  After receiving a Ph.D. in Biology from the University of Utah in 1997 and pursuing postdoctoral work in Genetics at Harvard Medical School, Beth moved to Pittsburgh in 2002.
Since then, she has been a faculty member at the University of Pittsburgh, first in the Dept. of Biological Sciences, then in the Microbiology and Molecular Genetics Dept. at the School of Medicine.  Her research focused on understanding how cells organize into complex tissues during organism development. Currently, Beth is a scientist administrator at the University of Pittsburgh Office of Research for the Health Sciences focusing on grant writing, reviewing, and editing. Beth is excited to bring these experiences to support the mission of RASopathies Network.
Beth's son was diagnosed with Noonan syndrome (PTPN11) in 2007.  His diagnosis validated for her the importance of basic research science to understand the molecular underpinnings of complex diseases.

Treasurer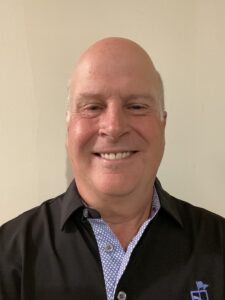 Bruce Deckman is the dad of Collin Deckman, who has Costello Syndrome (G12S).  He has participated in 11 Costello Syndrome family conferences in the United States and UK since 2001.
Bruce graduated Magna Cum Laude from Alfred University (1978) with a B.S. in Ceramic Engineering, including a thesis on the use of calcium hydroxyapatite as a bone implant material. He later earned an MBA from the University of Vermont (1981), with majors in Finance and Marketing. During that time, he became the first visiting student at the Tuck School of Business at Dartmouth College. After 40 years of work in industry and consulting, he retired as President (2020) of SAI Industrial LLC, an international business consulting firm that undertakes market research and analysis for multibillion-dollar companies in the chemicals, materials, medical, equipment and allied industries globally.
When not volunteering or spending time with his family and six grandchildren, Bruce enjoys golfing, visiting national parks, working in the yard, and cheering on the Philadelphia Eagles and Phillies.

Board Members At-Large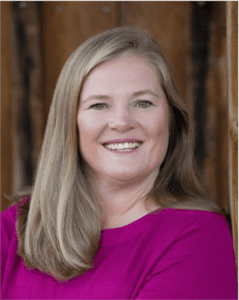 Cara Borian is the mother of Leah Borian who was diagnosed with CFC Syndrome (BRAF mutation) at seven months old in 2010. Leah's diagnosis triggered an interest in learning as much as possible about the RASopathies. Cara has been a volunteer with CFC International since 2012 most recently serving on their Board of Directors from 2015-2021.
Cara graduated from Texas A&M University with a B.S. in Chemical Engineering. After leaving the field in 2000 to stay home and raise her three children, she returned to the workforce in 2015 and is currently a systems integrator for Agility Communications Group which is a telecommunications company.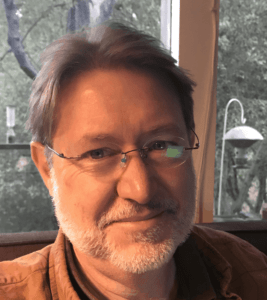 Lee Johnson is the dad of Quin (Costello syndrome, HRAS G12S) and is Lisa Schoyer's spouse.
Lee conducts and manages R&D in physical science and technology, with more than 30 years' experience at non-profit organizations.  While not a medical researcher, his familiarity with the research environment and non-profits are applicable and useful to the RASopathies organization.
RAS

opathies

Network UK
Founder and Director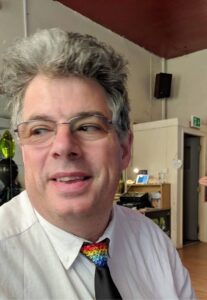 Colin Stone is the father of Helaina Stone, who has Costello syndrome.  In 1995, he set up the international Costello syndrome listserv at a time when the cases of no more than 20 children with Costello syndrome were published.  Colin's listserv continues today, with over 150 families signed on.
Colin's UK Charity, International Costello Syndrome Support Group (ICSSG), has been the first and crucial funder for  the international Costello syndrome and all the International RASopathy symposia.  Without ICSSG's seed money, confidence in convening the meetings during the era of sustained recession, would have flagged.
Colin and ICSSG have been instrumental in bringing attention to the RASopathies in the UK. With the support of Patron Aaron Ward-Atherton, Lord of Little Witley & Hurcott and the Genetic Alliance, UK, RASopathies Network UK launched at the House of Lords in September, 2010.  Colin and his wife, Cath, have worked to support Dr. Bronwynn Kerr and Dr. Sue Huson to educate pediatricians across the country.
Photo Credits for Home Slider Images:
Anahita Avalos
Rick Guidotti, Positive Exposure
Melissa Harwood-Muir of Melissa Ann Photography