Through the University of Pennsylvania's Orphan Disease Center
Annual
MILLION DOLLAR BIKE RIDE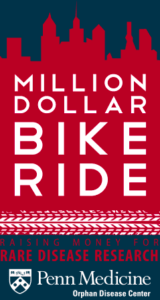 2018 Request for Applications
The Orphan Disease Center (ODC) at the University of Pennsylvania is pleased to announce the 2018 Million Dollar Bike Ride Pilot Grant Program. This program provides a one‐year grant to support research related to a rare disease represented in the 2018 Million Dollar Bike Ride.  The 2018 grant for RASopathies research is $74,830.
This Request for Applications (RFA) is open to the international community.  All individuals holding a faculty‐level appointment at an academic institution or a senior scientific position at a non-profit institution or foundation are eligible to respond to this RFA.
For more details about this grant program, rare disease focus areas, and how to apply, please visit the ODC website here.  The RFA Guidelines are attached for your reference. Letters of Interest (LOIs) are due no later than Monday, September 10, 2018 by 8pm EST.  Please refer to the Orphan Disease Center website for instructions on LOI submission.
Please contact Samantha Charleston at scharle@upenn.edu, or (215) 573-6822 with any questions.
~ PAST WINNERS ~
2018: Bruce Gelb, MD, Icahn School of Medicine at Mt. Sinai, NY , $74,830
Advancing A Novel Therapeutic Lead for RASopathies 
2017: Kartik Venkatachalam, PhD, McGovern Medical School, University of Texas Science Center at Houston, $47,189
Targeting Endolysosomal Proteins to Treat RASopathies 
2016: Philip Stork, MD, Oregon Health Sciences University, $44,000
Are Raf dimers targets for therapeutic intervention in RASopathies?
2015: Giuseppe Zampino, Università Cattolica Sacro Cuore, $53,000
Pain in RASopathies: new investigative techniques and treatments
2014: Maria Kontaridis, PhD, Beth Israel Deaconess Medical Center/Harvard Medical School, $65,000
Pilot study to delineate the cause of gastrointestinal abnormalities in RASopathy disorders using human inducible pluripotent stem cells (iPSCs)