Congratulations,

Gregor ANDELFINGER, MD PhD

, for winning the 2019 MDBR RASopathies Research Grant! 
LET'S RAISE GRANT MONEY FOR ANOTHER RESEARCH PROJECT
~~~
REGISTRATION IS NOW OPEN
~ Penn Medicine's 2020 Million Dollar Bike Ride ~

Saturday, June 13, 2020
~ OR VIRTUALLY ~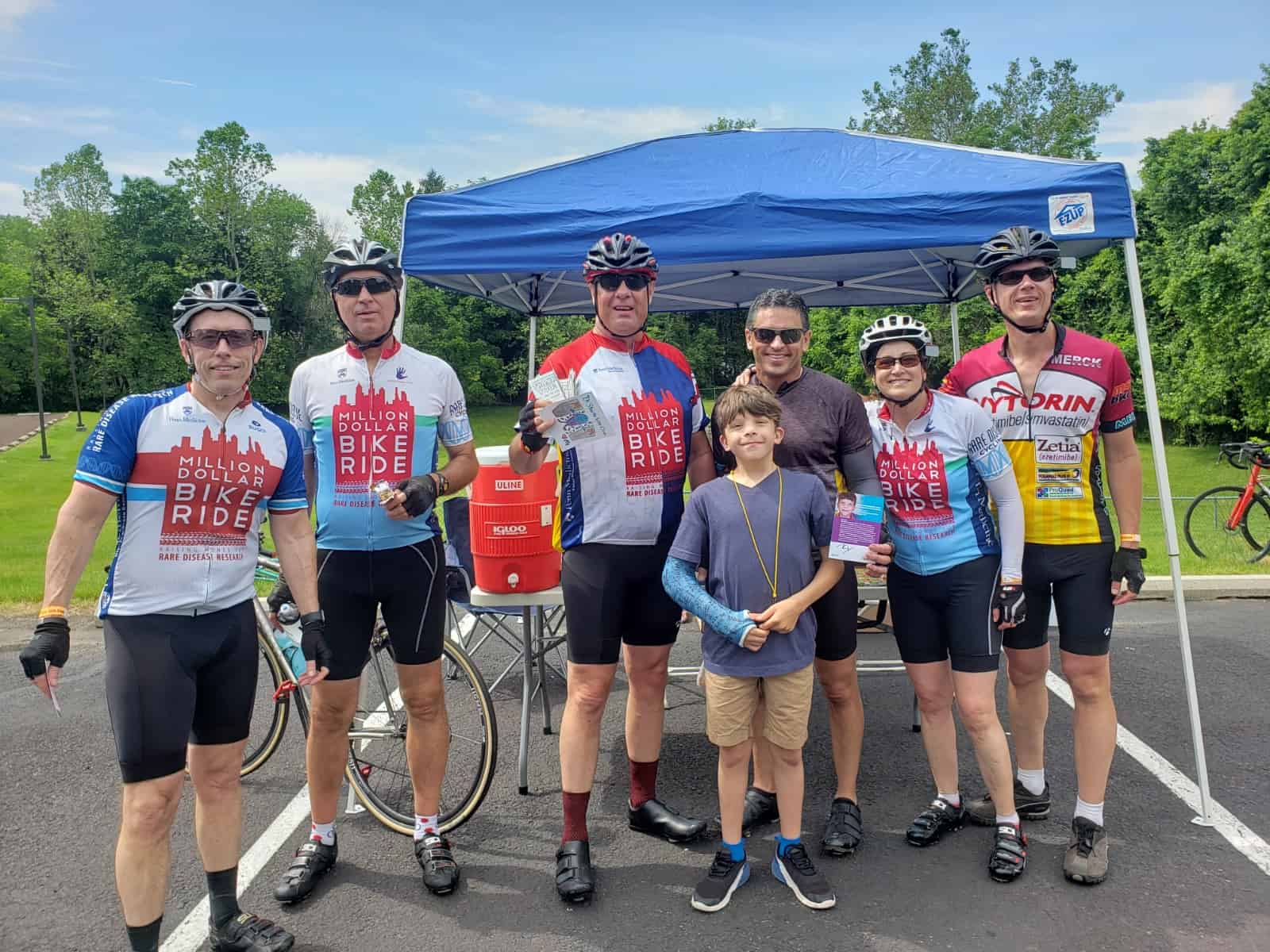 2019 MDBR RASopathies Riders and Volunteers
~~~~~~~~~~~~
Come join us to raise research funds! Your participation by biking or sponsoring or both, will help us direct 100% of what you donate to RASopathies research.
Can't make it to Philly to participate? No problem, participate virtually! Just register like you're participating in Philadelphia, email LSchill@rasopathiesnet.org that you'll be participating virtually, and then take a bike ride or walk or run locally.
To Ride in Philadelphia, click here to register to ride, and as you go through the registration pages, choose RASopathies Network Riders 
Ways to Donate
We match donations 1:1 up to $20,000, and Penn matches donations 1:1 up to $50,000.
You can donate to RASopathiesNet for our 1:1 match up to $20,000 – which will then be sent to Penn for their 1:1 match up to $50,000 which increases the value of your donation 4x, or you can donate through any of Penn's webpages (RASopathies Network Riders, a friend's or your own MDBR social fundraising page) for Penn's 1:1 match.
If you set up a Penn MDBR fundraising page in the past, please reset your "funds raised" back to $0!  More information can be found on the Penn MDBR FAQ page here: http://www.milliondollarbikeride.org/fundraising-1.
Questions? Contact Lisa Schill at LSchill@rasopathiesnet.org or (520) 229-7067.
Click here for parents' answers to What do you hope RASopathies research will do for you?
~~~
Congratulations,

BRUCE GELB, MD

, for winning the 2018 MDBR RASopathies Research Grant!
~~~
The 2018 Final Count…
On May 21, 2018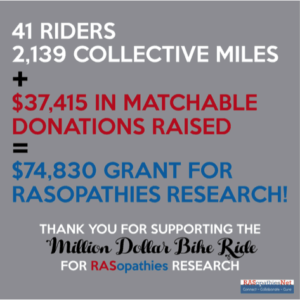 ***Thank you 2018 Riders and Volunteers!***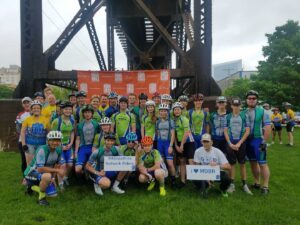 Thank you Water Station Volunteers!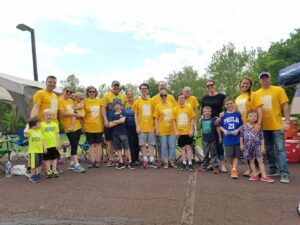 Thank you Ride for Shane Team!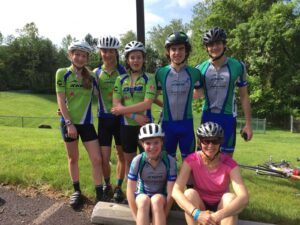 Thank you PJ for organizing all the riders!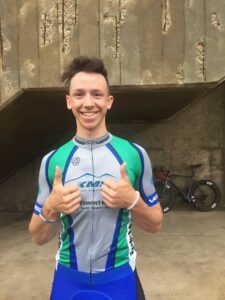 Between their butts and the green ribbon is the RASopathiesNet logo!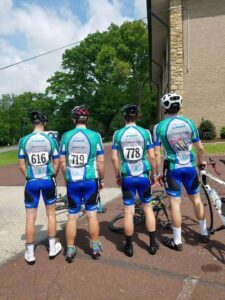 RASopathiesNet's Boardmembers Beth Stronach (Secretary) and Lisa Schill (Vice President)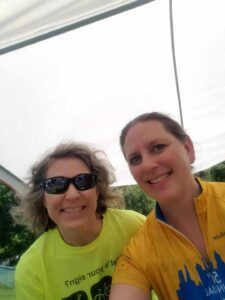 Thank You Everyone!
~~~~~
MILLION DOLLAR BIKE RIDE FUNDRAISER
for RASopathies Research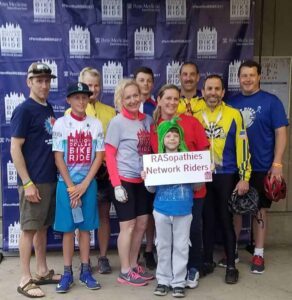 Thank you 2017 RASopathies MBDR Team!
Past RASopathies Grant Winners
2019: Gregor Andelfinger, MD PhD, CHU Sainte Justine Research Center, University of Montréal, $59,220
MEK inhibition for RASopathy associated hypertrophic cardiomyopathy
2018: Bruce Gelb, MD, Icahn School of Medicine at Mt. Sinai, NY, $74,830
Advancing A Novel Therapeutic Lead for RASopathies
2017: Kartik Venkatachalam, PhD, McGovern Medical School, University of Texas Science Center at Houston, $47,189
Targeting Endolysosomal Proteins to Treat RASopathies 
2016: Philip Stork, MD, Oregon Health Sciences University, $44,000
Are Raf dimers targets for therapeutic intervention in RASopathies?
2015: Giuseppe Zampino, Università Cattolica Sacro Cuore, $53,000
Pain in RASopathies: new investigative techniques and treatments
2014: Maria Kontaridis, PhD, Beth Israel Deaconess Medical Center/Harvard Medical School, $65,000
Pilot study to delineate the cause of gastrointestinal abnormalities in RASopathy disorders using human inducible pluripotent stem cells (iPSCs)
Save the Date!
…for the 7th International RASopathies Symposium in 2021 –  Denver, Colorado.  More information soon, or email info@rasopathiesnet.org