What do you hope RASopathies research will do for you?
What do you hope RASopathies research will do for you?
A Question Posed for the 2016 Million Dollar Bike Ride Campaign
~ some replies ~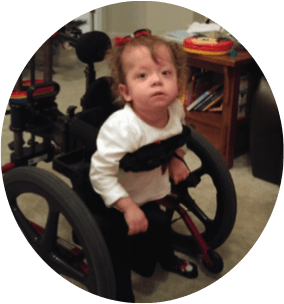 Gloria ~ 2-1/2 years old, CFCS MEK1
My hope is that RASopathy research will find a way for Gloria's body systems to function better.  She has profound challenges in many areas of her life.  She cannot eat by mouth, sleep through the night, stand, or walk.  She suffers from cyclical vomiting syndrome and is in need of suction frequently.  Many of these challenges stem from the infantile spasm seizures she had when she was 4.5 months old, which are common for children with CFC syndrome.  Prior to the infantile spasms seizures Glo could eat, and had some challenges, but she was able to function well and was cognitively developing normally.  My goal for RASopathy research would be to fund the research to help find a MEK inhibitor that will allow Gloria to function better.  It is exceedingly frustrating to know that there are potential treatments that could ease her suffering, but they are not being pursued presently for many reasons (all of which can and must be overcome).  Beyond those issues the greatest fear that I have discussed at length with others in our community is the looming threat of the return of seizures that could rob Gloria of more of her quality of life, or even her life itself.  This research is imperative, and the potential that lies in the discoveries of gene editing techniques like CRISPR CAS9 give hope where there was little before.  Please support us in the cause of finding treatments and ultimately cures for children suffering from Rasopathies.
Sincerely
Les Rogers
Father of Gloria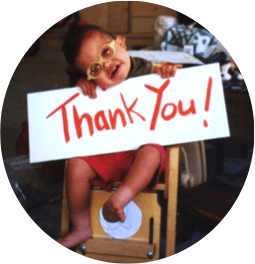 Quin ~ 5 years old in this picture, HRAS G12S
…To help future children not experience the pain that kept us all up around the clock unable to comfort him for 3 years, to be able to eat by mouth without years of occupational therapy, not to throw up so much as to need a g-tube, be able to walk when other children do (not by the age of 3), to not have heart trouble so as to need open heart surgery or fear sudden death from hypertrophic cardiomyopathy, to not have orthopedic problems so as not to need surgeries from achilles tendon releases to hip socket reconstruction, to not be at such high risk for cancer…
Lisa Schoyer
Quin's Mom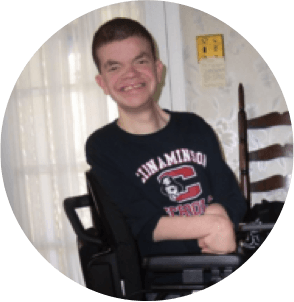 Matt ~ CS, HRAS G12S
Anything that would contribute to a good quality of life. I do get amazed at the things/knowledge/advances the younger crowd has access to.  My wish list would also include a GI and ortho magic wand.
Susan
Matt's Mom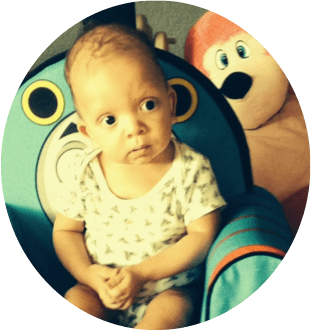 Arthur ~ 9 months, CFCS BRAF
Arthur's development is at a 5-month-old's level. We don't know if he'll ever walk or talk. We know he will be cognitively impaired, but we don't know yet how severely. He might develop epilepsy and a serious heart condition. What we hope the RASopathies research will do for us is give us a tiny glimpse of hope for the future. We want to believe that one day there will be a way to "normalize" Arthur's life as much as possible, so he can enjoy all this world has to offer like his typically developing peers, so that we stop worrying if the society will take care of him once we are gone, so that his brother can experience what it's like to have a "non-special" sibling like the rest of his friends. We hope that RASopathies Network uses all of its available resources to advocate for continued (and speedy) research in developing MEK inhibitors and CRISPR Cas 9 – and any other new technologies that we might not be aware of – that might work for our children, hopefully, in our lifetime.
Thank you,
Marina Bilgin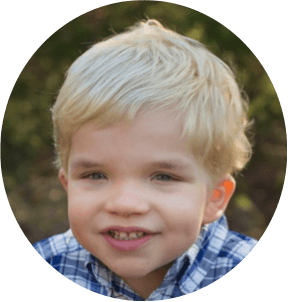 Westin ~ 5 years old, CS, HRAS G12S
I hope RASopathies research will figure out ways to prevent people with Costello syndrome from struggling to eat food orally in those first years (or longer).  I hope there will be a cure for vomiting so that people like my son do not vomit many times a day for the first few years of their life.  I hope treatments are discovered (like taking a cocktail of vitamins) that will give our children muscle strength to help them walk sooner than age 3-5.  I would love for a cure to be found for everything that people with Costello syndrome encounter such as increased incidence of cancer, orthopedic issues like scoliosis, kyphosis, and hip dysplasia, endocrine issues like hypoglycemia or growth hormone deficiency, and neurological issues like Chiari malformations and tethered spinal cord.  I hope someday that people with Costello syndrome do not have to struggle with day-to-day activities and spend years of their life in hospitals or PT/OT/ST therapy sessions.
Thank you for your help,
Angel Thomas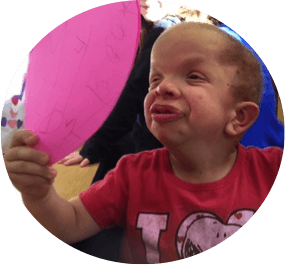 Allie ~ CS, HRAS
Provide answers and potential drugs to treat and prevent multiple diseases the CS population endures!
Kara Bahnsen
Allie's Mom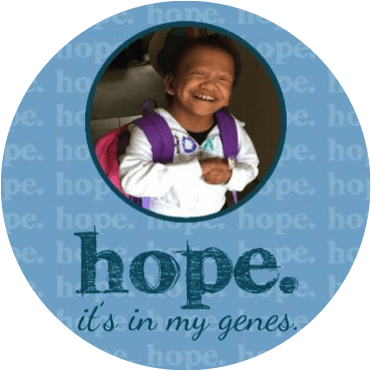 Lilinoe ~ 9 years old, CFCS
This is my second daughter, Lilinoe.   She is non-verbal, hearing-impaired, and is significantly cognitively impaired.  She also has many of the health issues associated with her syndrome, including the dry, scaly skin, eating problems at birth, and cardiomyopathy.  She needs assistance with almost all aspects of her daily life, and though she does learn very slowly, she will never be independent.
My hope for RASopathies research is to not only to extend her quantity of life, but to improve her quality of life as well.  So that the multitudes of doctors appointments and procedures would lessen, because she wouldn't need them anymore.  I would like her to be able to communicate better with us, so she can tell us not only when something is wrong, but when something good happened.  Or even just to say, "I love you, Mommy."  I would also like her independence to increase, so that one day if my husband and I are no longer able to take care of her, she won't be a burden to my older daughter.  These are my hopes for my daughter, my rare baby.
Thank you,
Apelila Newby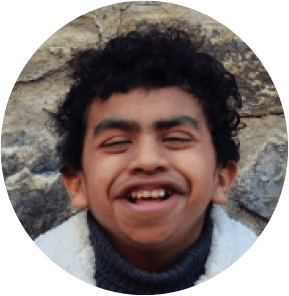 Uly ~ CS, HRAS
I wish the research could help my son to have better cognitive and expressive language abilities in order for him to live with more independence and freedom.
Anahita